Best Yoga Studio Interior Design Ideas for New Studio Owners.
You're planning on opening a yoga studio but you are unsure where and how to start. It can be challenging to figure out the potential expectations and needs of your future students.
By utilizing appropriate interior design ideas in the form of practical lighting solutions, appropriate spatial organisation and fun accessories, you will be able to provide a yoga experience that will give your students a soothing atmosphere to get in shape, inquire deeply and reap the physical and cognitive benefits of a long-term yoga practice.
There are now interior design trends that can turn any yoga studio into a true oasis of peace and relaxation. In order to help you pick the best ones, we have singled out our favorite design must-haves for the ideal yoga studio. Let's take a look and get inspired.
Lighting
The amount and type of lighting can benefit your patrons immensely when utilized properly.
If you're able to find a space with large windows, it will allow for more natural light to fill the space and create an inviting atmosphere during the day. However, you also have to pay attention to the fact that your students require privacy, so it's vital to opt for decorative frosted window film which will allow natural light but preserve the privacy students often need to fully engage in their practice.
Switching your incandescent light bulbs with neutral white LEDs is the perfect way to go. Not only is this an energy-saving solution, but these bulbs won't cause your visitors eye strain or awful migraines and turn their lessons into a real nightmare. Lastly, make sure to invest in dimmer switches and adjust the brightness according to your students' wishes.
Finally, feel free to explore other yoga studio lighting ideas until you discover what will allow you to create the ideal workout environment for your visitors. Apart from focusing on the type of light bulbs and their specifications, you will need to take your patrons' point of view into consideration and place the lighting fixtures so that they provide enough light in all parts of the room for a variety of situations and atmospheres.
Try warm lighting for a relaxing atmosphere

Take advantage of natural light, but make sure to preserve the privacy of the room

Install dimmers for full lighting control

Play around with lights on the ceiling, lights in sconces on the wall, salt lamps, candles, etc.
Eco-friendly building materials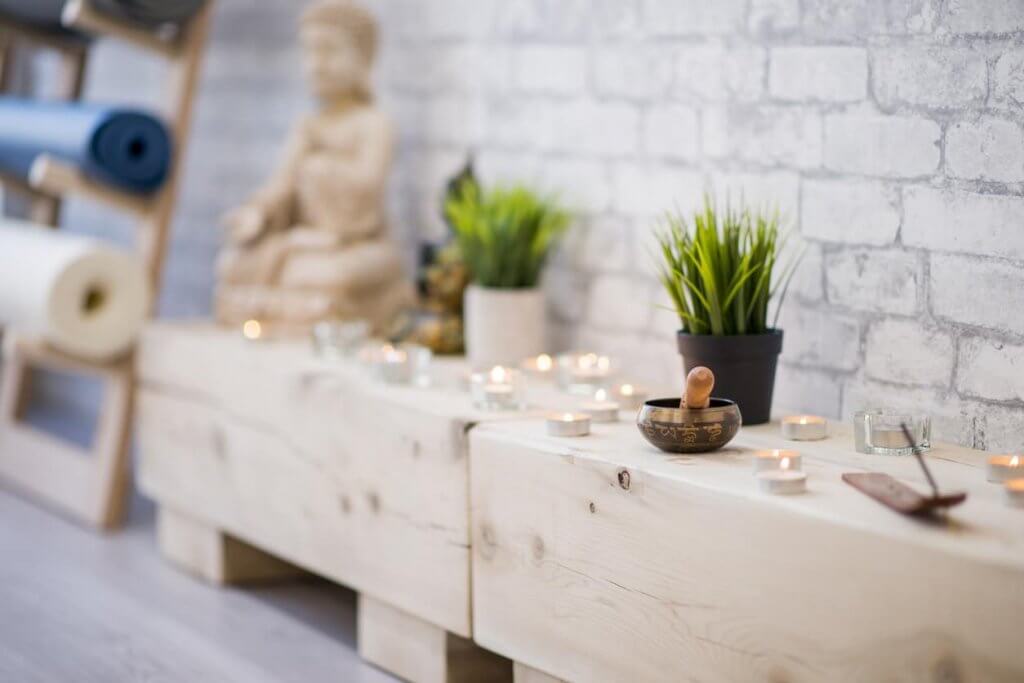 Nowadays, yoga studio visitors are extremely conscious about preserving the environment and stay up to date on eco-friendly trends. It  has become increasingly important to invest in sustainable options while you're designing your studio, such as bamboo, linoleum, natural stone and other recycled materials. Yoga students not only want to be in space that has been curated according to environmental best practices, but they also want to experience the ambiance of nature.
If you're in a position to change out the floors in your yoga room, bamboo is not only perfect for creating a comfortable floor for working out but it is also more water resistant than hardwood so all the sweat that drips on it won't cause any moisture damage.
Lastly, consider adding natural stone on the wall as decorations which will add an earthy, natural touch to your studio and tie the whole place together.
Here are several more ideas on how to green your studio without major renovations and thus appeal to your eco-conscious audience.
Stick with environmental best practices when curating your studio

Add natural wood and stone as furniture pieces, flooring, wall pieces, etc.

Combine different natural materials to provide a natural ambiance
Colors
When it comes to finding the perfect color palette for your yoga studio, consider not only your branding, but the type of atmosphere students are looking for when entering a yoga studio.
Some yoga studios make the mistake of using vibrant and oversaturated colors which can alienate those who are looking for peace, clarity and simplicity. Try using light pastel shades and natural earthy tones which positively affect everyone's mood and energy during yoga practice.
For instance, beige walls have a truly calming effect and when matched with turquoise accent walls, they can promote positive, focused thoughts and help everyone get the most out of their sessions. What's best, there are now easy-to-use color palette generators you can use to find the best paint schemes for your studio.
Stick with earthy and natural tones including white, beige, and pastels

Use a color generator tool to choose your accent colors, and use these colors in all your branding material for the studio (website, fliers, business cards, etc.)
Quality Air
Having pure and fresh air in the studio is one of the key factors for creating the ideal space for yoga sessions. Mainly, better air quality means that your students won't be at risk of suffering from allergy attacks and respiratory difficulties which will allow them to enjoy each class to the fullest.
Allergens like pollen and dust mites are common. Therefore,successful yoga studios are often dedicated to using the latest air quality enhancement technologies. The same goes for other studios from all around the world, including those in Australia, which all use efficient air conditioning  to provide clean air and eradicate pesky allergens.
Lastly, even though essential oils, incense, scented candles and plants can add freshness to the space, you need to know that they can also cause breathing difficulties to those allergic to them. With this in mind, ensure that you check with your students if they suffer from any allergies so that you can eliminate any possible threats.
Maintain the air quality in your studio with air purifying systems, fans and circulation

Opt for small plants that clean the air, and place them strategically to not disturb students who may be allergic

Be aware that students can be sensitive to incense, essential oils and scented candles. Ensure that if you are using these products to use them prior to yoga classes and fan out the room for a light scent.
Introduce greenery
These days, you certainly won't find a modern yoga studio without loads of greenery. The reason for this is that plants help tie contemporary design elements together and can quickly turn an average space into a real healthy sanctuary by purifying the air and enriching it with oxygen.
For example, you can go for potted small trees like a dwarf lemon or a Ficus which will create a natural setting and make the studio feel more welcoming. On the other hand, for a different kind of look, you can opt for a Rubber Plant or a bamboo palm which will immediately transport your customers to a distant exotic location and turn their sessions into a treat for the body and mind.
Reception Area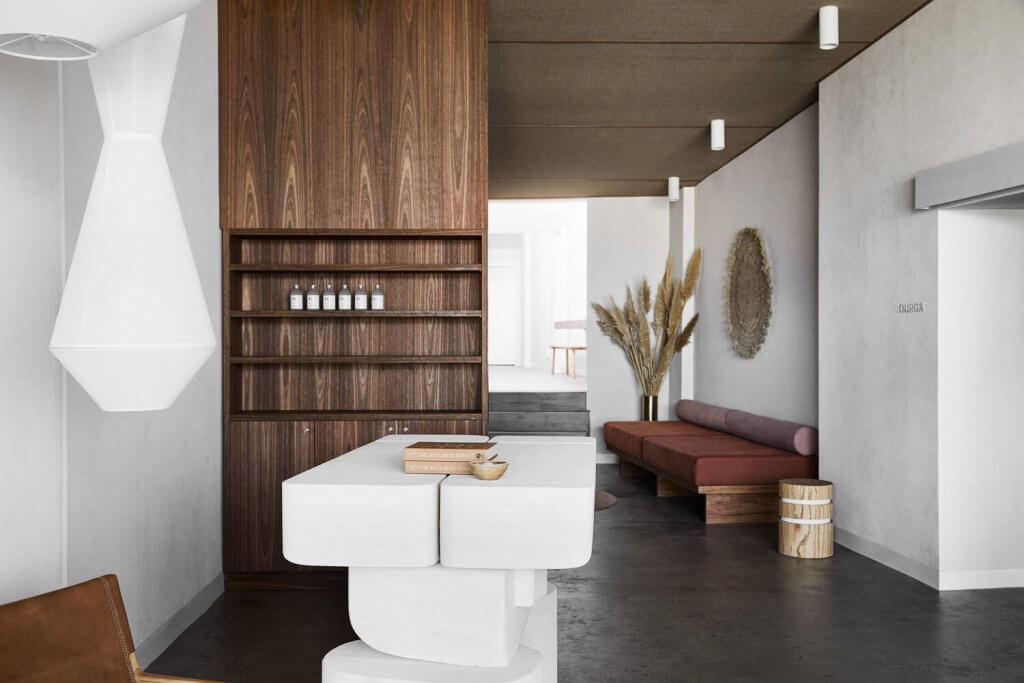 Last but not least, every great yoga studio needs a lounge area where people can come to prepare or unwind before class. In a perfect world, you would want to have refreshments prepared for the customers so that they can stay energized, and individual lockers where they can leave their belongings.
If this is not realistic, having water and hot tea options are usually affordable and attend to students' needs. In lieu of lockers, you can opt for cubby spaces both in the lounge area and inside the yoga room in case students don't want to leave their belongings unattended.
Don't forget, your lounge area has to have appropriate decoration in the form of motivational posters and paintings of remote areas of the world so that new students can get a wonderful first impression. Of course, this doesn't have to be the only option. Instead, you can organize a small shopping area where customers can browse through your very own branded mats, t-shirts or even yoga-themed books. This will further reflect on you positive ratings and help you attract more customers. Lastly, if you want to add a more personal touch to the interior, think about hanging pictures of your yoga teachers and students on the walls. This will contribute to an intimate and warm atmosphere.  
Keep in mind that all senses need to be catered to in your studio so you should definitely get some scented candles and incense to create an atmosphere that will captivate your visitors.
Ensure that you have a large enough reception area to accommodate students entering and leaving the studio.
Install cubbies or lockers for students to leave their shoes, coats and personal belongings
Offer rental mats, hot tea, water and small snacks for students who need a pick-me-up before or after class.
Consider that your reception area is often the student's first impression of the studio. Decorate accordingly to both welcome the students and introduce them to what makes your studio such a special place to practice.
As you can see, creating the ideal modern yoga studio is not so difficult after all. All it takes is willingness to research modern design trends and get to know your customers preferences and needs. Good luck with your project!
CHLOE TAYLOR is an art historian and recreational ballet dancer. Her biggest dream is to travel the whole world and take stunning photographs of beautiful places. She also enjoys learning and writing about home design, since she is crazy about aesthetics. She is a regular contributor to Smooth Decorator