A Complete Guide to Yoga & Injury Recovery.
Along with supporting physical, mental and emotional wellness, injury recovery has proven to be a fundamental benefit of routine yoga practice. Yoga focuses on both the mind and the body, which gives it the potential to address both the physical and nonphysical aspects of an injury.
In general, yoga lengthens muscle tissue, strengthens muscle through applying healthy stress in various shapes, and enhances range of motion of the skeleton. These traits are excellent both for recovery from overuse muscle injuries like low back pain and as physical therapy intervention for pain management and correcting postural imbalances associated with musculoskeletal disorders and injuries. Perhaps even more importantly, yoga reduces cortisol levels, which is a stress hormone that has been linked with a number of adverse effects that inhibit injury recovery. Finally, yoga has proven benefits in terms of joint health, so if you suffered something like a back, neck, or knee injury, yoga classes may be the right place to go.
But the greater question is: Can yoga really help you come back faster and stronger after an injury? If your doctor has approved yoga as a movement regimen, here are a few tips to help you navigate your options when it comes to yoga and injury recovery.
Choose the Right Class
Each yoga class is designed for a certain body type, learning preference, and skill level, and when you are walking into a yoga studio in 2018, you are likely to find that there are hundreds of styles to choose from.
When choosing a yoga class, it is important to consider:
The pacing of the class

— How quickly do you want to move? Flowing styles of yoga will take you from posture to posture about every 10 seconds, whereas a Hatha class will spend full minutes in postures before moving on.

The setting of the class

— How big is the studio space where you'll be practicing? This will give you an idea of the potential teacher-to-student ratio. Do you want a lot of personal attention or does it sound better to be anonymous in a crowd? Are we talking about an outdoor session? A gym? A private yoga session in someone's house? Does the setting have extra mats and a full selection of yoga props?

Your goal

— What are you looking to achieve? Yoga styles span from highly rigorous to spa-like and gentle. Knowing your goal will help you narrow down which styles are best suited for you.  



Most yoga studios have websites that you can browse to learn more about each teacher, class style and what to expect during the practice. If you have additional questions, reach out to the studios directly through email or phone, or plan to stop by before or after a scheduled class to take a tour and ask questions. The MindBody Connect app is a useful tool to browse local studio class schedules.
Choose the Right Teacher
Finding the right yoga teacher for you can feel a lot like shopping. Sometimes you need to try a few options before you find the right fit for you.
The best teacher for you is a likely a teacher who:
Has used yoga to recover from their own injuries (to find out, read their bio on the studio's website or show up to class a few minutes early to chat)

Checks in with you individually before class ( ← although sometimes it gets busy so the best advice to approach your teacher if they have not checked in with you 5 minutes prior to the start of class)

Makes you feel comfortable to be yourself and ask questions

Explains the poses in a way that makes sense to you

Encourages you to try new things and simultaneously respects your boundaries

Observes your practice and is able to offer expert insights
A yoga teacher is not a substitute for a doctor. They are a coach to help you interpret your experience and make intelligent movement choices. Most yoga studios feature yoga teacher bios on their websites and in the studios. But the ultimate test is to try a variety of teachers with different backgrounds and personalities. You'll know the "good ones" because you'll want to go back to their classes.
Supplements
Broken bones, normally due to a fall or perhaps a car accident, are among the most common traumatic injuries. To a greater or lesser extent, all these injuries are treated in the same way. A doctor must surgically repair the bone, and then the patient requires some physical rehabilitation. Sometimes, the surgery is a very invasive procedure that involves metal pins, plates, and screws. Other times, the doctor must only manipulate the bones back into position to they can fuse back together.
Intensive surgery usually requires intensive physical rehabilitation, and a lot of it. But the milder injuries, which are also the more common ones, require a much milder dose of physical therapy. Yoga is great in situations like this. Certain poses target strength and range of motion in certain parts of the body.
To hasten the recovery process, take advantage of the many available boots for improved mobility and other such tools. Larger boots completely immobilize the broken bone while still allowing some limited freedom of movement. Then, as healing progresses, patients can transition to a smaller boot that stabilizes the healing bone but does not greatly interfere with daily activities, including most yoga poses.
Summing up
When it comes to healing traumatic injuries, the mental aspect is almost as important as the physical component. Yoga is one of the only activities that effectively addresses both elements, making it an excellent part of your overall healing and recovery plan.
If you struggle with pain, postural imbalances, and limited range of movement due to an injury or other musculoskeletal condition, yoga practice could be just the exercise and physical conditioning your body needs to facilitate healing. Guidance from a knowledgeable instructor who is familiar with yoga exercises for injury recovery, as well as supportive aids (like orthotic braces, yoga blocks, straps, etc.) can help you embrace yoga more successfully during your injury recovery journey. Happy healing!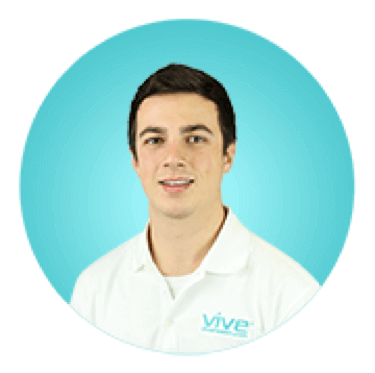 Joe Fleming is the President at ViveHealth.com. Interested in all things related to living a healthy lifestyle, he enjoys sharing and expressing his passion through writing. Working to motivate others and defeat aging stereotypes, Joe uses his writing to help all people overcome the obstacles of life. Covering topics that range from physical health, wellness, and aging all the way to social, news, and inspirational pieces…The goal is to help others "rebel against age".