Sujantra McKeever: An Interview with Pilgrimage Yoga Online Founder.
This piece is written by Molly Flores, a student at Pilgrimage of the Heart Yoga in San Diego. 
In a dimly lit foyer, sunlight cascades over potted olive trees and illuminates trails of incense, seemingly swaying to its own Asana.  In the background, gentle flute music resonates in my ears and fills me with a sense of elation. The walls surrounding me are adorned with vivid paintings and inspirational sayings such as "Yoga is union" and the tables display crystals and sweet smelling herbs.  In this space, I am grounded and filled with euphoria. I close my eyes to embody the feeling entirely. I am drawn back earthside as a gentle hand rests on my shoulder but a voice does not disrupt the silence.
I have come to Pilgrimage of the Heart Yoga Studio and have already succumb to it's grace.   Sujantra McKeever, the founder and owner, stands before me with the presence of a redwood tree that has seen many seasons pass before it;  insightful and strong. His salt and pepper hair flows around his face freely and his infectious smile seems to suggest that he holds dear the secrets of the universe.  He wears loose earth-toned clothing and worn oxford loafers; the combination suggests he is a spiritual man with business to conduct. He gestures me to follow him and I am surprised to discover a den tucked away, hidden behind folding French walls in the back of the studio.  
Unlike the foyer, the den is cramped, filled with books on meditation and pictures of a small Indian man with the same infectious smile: Sri Chinmoy, a world famous inspirational leader who mentored Sujantra for 27 years.  The desk across from me is used as an altar; miniature figurines of Buddha and Hindu goddesses are carefully displayed. The desk also showcases many mementos such a group pictures and event flyers, representing a sense of family: a community of people that Sujantra's passion has united.
As I prepare myself, Sujantra is already seated ready to explain his juourney.  His aura alludes inner-peace and this the very reason I chose to interview this man regarding his journey to self-enlightenment. As I shuffle through my notes, a look of overwhelment is obviously splayed across my face.  "Where do I begin?", I giggle nervously. This man before me has seen so much…Without a cue, the silence is interrupted by the soft tone of a gong and just like that, his story unfolds before us.
"I was raised a Roman-Catholic, even as a boy, I had a good feeling for going to church…and I really liked that feeling of that shift between the day to day world and the sacred world."  
Sujantra McKeever, was born in San Francisco in 1962.  As a boy, he attended cataclysm classes which evolved to a Prayer and Contemplative Meditation course while attending Jesuit High School.  During these classes, Sujantra and his peers, were guided by the priest into spiritual visualizations. "On one of those days, I had a very profound experience about my sense of self and sunk to a really deep place within myself- this was very eye opening. I had never felt that dimension before…"
Now awakened to his passion, Sujantra began to nourish his mind, body and spirit; combining physical exercise with the spiritual practice of yoga and meditation.  Running and basketball were essential to his physical routine as they allowed him to practice breath control, referred to as Pranayama. The peaceful postures (Asanas) of yoga nourished his longing for reflection and a higher sense of self.  
"What I was really motivated to deepen was my ability to meditate."  Sujantra felt a longing to expand his knowledge and practice of meditation.  Unfortunately, the priest who had ignited the passion within Sujantra originally, was limited in his expertise and was unable to satiate Sujantra's need for more knowledge on the practice.  
After about a year and a half of searching for a teacher, Sujantra met Sri Chinmoy here in San Diego in 1980. He was teaching a class and the feeling Sujantra left with was similar to the bliss he had experienced as a boy.  He then attended a free concert held by Sri Chinmoy in Phoenix, Arizona. A connection was made and a lifetime of mentor ship was established. Sri  Chinmoy became Sujantra's spiritual teacher and remained so for the duration of his life, until his passing in 2007.
"I shared with Sri Chinmoy that I wanted to create a space that would be a real vehicle to convey love and inspiration for the practice of meditation and yoga and he created the name The Pilgrimage of the Heart."  This safe space eluding love and spiritual practice started as a new age bookstore in 2006, providing literate on the practices of yoga.  From there a few yoga classes were hosted throughout the week, word then spread and many more yoga classes were being taught, with this the need for more instructors emerged.
Sujantra now owns two Pilgrimage of the Heart Yoga studios, in the heart of North Park and Normal Heights, California.  He instructs 5 classes a week at both locations, teaching all 8 aspects of yoga and exploring the relevance of this ancient art in our modern society. His classes include, Beginning/Gentle Yoga, Yoga for children and Hatha levels I and II, as well as guided meditation as well as a musical meditation course. Continently, for those who can't make it out to the studio, instructional meditation videos are now provided on pilgrimageyogaonline.com.
Not only had Sujantra created a platform to bridge the gap of ancient aspects of yoga to a modern group of people through his studios and website; but he has written 5 books and has lectured in more than 25 countries on the practices as well.  " I find that the hardest job a teacher faces, is connecting with his audience, so what I've tried to accomplish with my lectures and writings is making meditation very accessible to people and to demystify yoga in that sense." His writings include: Learn to Meditate, Paths Are Many Truth Is One: A Journey to the Essence of Spirituality and Religion, Ancient Wisdom for Modern Lives: The Mandukya Upanished, 7 Secrets to Super-Health, and Strategy for Success.  
As I glance down at my notes, realizing I haven't prepared anymore questions, I am ready to improvise.  I look up, about to impose a question about his own personal practice and finding the time amidst his busy schedule; only to find that Sujantra has taken it upon himself to find the time right then.  Very clearly deep within his practice, I smile, realizing this was the most appropriate cue for the conclusion of our interview. I head for the door, feeling extremely inspired as I turn to exit I hear "I hope our practices emerge one day, Molly.  Be well."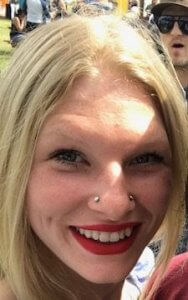 ABOUT THE AUTHOR: Molly Flores is originally from New York and has been living in San Diego for the past 10 years. She has a busy life as a mom of two, and is deeply interested in expanding her practice and understanding of yoga and meditation. This piece originated as an interview with Pilgrimage Yoga Online studio founder, Sujantra McKeever. Molly is a student is Pilgrimage of the Heart Yoga in Normal Heights and North Park in San Diego.