The Benefits of Yoga & The Power of Sharing With Others.
I first started learning yoga in the mid-1970s when I was in high school in the San Francisco Bay Area.
There was a television program that was on each week. I would go to my dad's office on the third floor of our family home, close the door for privacy—I was a bit embarrassed by my interest in yoga–and follow along trying to put my body into these strange positions.

Unfortunately, I've never been very limber and most of the asanas were inaccessible to me, I could barely touch my toes, but I was able to do the breathing exercises that were part of every session.

I noticed almost immediately the positive effects the pranayama had on my state of mind. After just a few minutes of breath control, I felt empowered and calm. I was also a runner and found that going on long runs and focusing on my breathing was also a powerful way to relieve the social anxiety I was going through during high school. Yoga and running were a lot better and healthier than smoking pot and drinking beer. I was hooked on yoga and have been ever since.

Once I began feeling the positive effects of yoga I immediately wanted to share the techniques with others. It is like going on a hike and discovering a beautiful alpine lake. After enjoying the lake for myself I immediately want to share the experience with others I care about.

I found over the years at one of the best ways to explain to others the benefits of meditation is through scientific and well-documented research.

I recently came across an excellent blog that very clearly explores 18 amazing benefits of yoga. The article explains everything from the power of yoga to relieve stress and anxiety to increasing fertility through various postures and breathing techniques.
When I was first practicing meditation it was the research initiated by Transcendental Mediation under the guidance of Maharishi Mahesh Yogi—the Beatles guru—that made clear to me the power of meditation on the mind and body.
There are currently over 20 million Americans practicing yoga. If each one of us who practices could inspire one new person to do yoga then that would double the number of Americans bringing strength, balance and flexibility to their bodies and minds.
The yoga philosophy says that the state of the world is a direct result of the state of each individual in the world. It is our collective consciousness that creates the consciousness of our country and the world.
Our yoga site PYO.yoga was created to share yoga with everyone regardless of their financial status. We created our Pay As You Wish structure so that everyone can access high-quality yoga instruction in the comfort of their own home.

If you want to share Yoga with others, be a living example of the power of yoga and educate yourself on the many benefits of yoga. You will be a convincing representation of the practice. Sharing the inspiration of yoga feels great and helps to create a better world now and for future generations.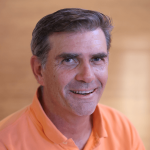 Sujantra McKeever is the founder of Pilgrimage of the Heart Yoga in San Diego, which serves over 1,000 yogis a week, and also helped create Pilgrimage Yoga Online. He is the author of five books on eastern philosophy, success and meditation. Sujantra studied meditation with spiritual teacher Sri Chinmoy and has lectured on meditation and yoga in over 30 countries.