The Difference Between Yin, Restorative and Gentle Yoga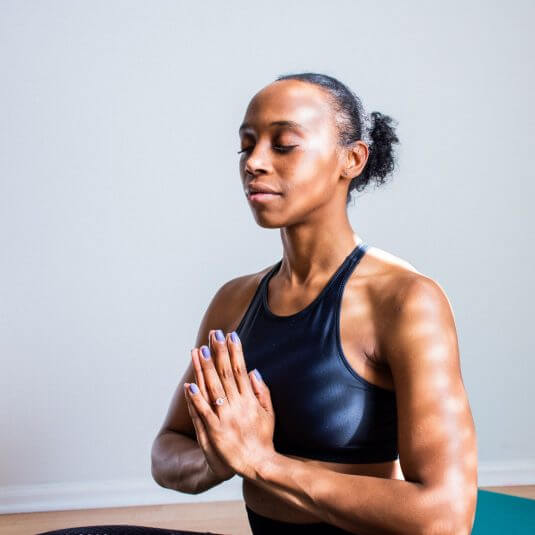 Yin? Restorative? Gentle? From the outside in, these three styles of yoga practice might look identical, but there is a big difference in both the aims of these offerings as well as the way in which we practice them. It's important to understand the how and the why of each style so that we are always doing our best for our bodies, minds, and spirits.
Gentle Yoga
This practice will offer students ground-based postures that gently stretch and strengthen the muscles of the body. You may take one or two easy standing postures like Mountain or Downward Facing Dog, but most of the time, you can expect to be on the floor. In this style of yoga, you will definitely move but at a slow pace and with lots of instruction. This class is perfect for students who are brand new to yoga, and for those who are coming back after an injury or ailment.
Restorative Yoga
This is a yoga practice that focuses on deep relaxation through floor-based poses. You will use props to support the postures, and all poses will be very mild in their intensity. In Restorative yoga, we use the props to create a completely effortless experience of a long-held posture. With this level of support, students can slow down and let go of long-held tension. This class is ideal for students suffering from physical and mental fatigue. It's also wonderful anytime you feel the need to just step back from the whirlwind of life.
Yin Yoga
A relative newcomer on the yoga scene, yin is often seen as a form of gentle practice, but though it is a passive practice, it is not intended to be gentle. This style of yoga targets the joints and the connective tissue of the body instead of the muscles. To access these dense tissues, poses are held from 2 – 6 minutes with as little muscular effort as possible. Unlike a restorative practice though, we are looking for strong sensations of stretch. Yin Yoga asks us to distinguish between discomfort and pain and to remain calm in the midst of that discomfort. Because of the active stress this style places on the joints, it is not recommended for students with spinal disc issues or other joint injuries. We recommend practicing yin yoga once per week as a companion to your regular asana practice.
About the Author, Lauren McLaren:
Yoga found me in 1998, and it is certainly responsible for transforming my life from an unexamined existence into a deeply felt experience. The physical practice has its own rewards, and I found relief from chronic back pain on my mat. What amazed me, and continues to amaze me is the subtlety of yoga's power. Out of this simple desire to be free of pain grew an awareness of the immeasurable value of each moment of our lives. This new mindfulness gave me a sense of deep connection that has carried me through some grave times with hope and humor. Yoga offers many lessons, but one of the most resonant to me is that to let go of suffering, you must first accept things as they are, and then accept that they will change.
Originally from Canada, I hold a B. Ed in secondary education and taught for several years before moving to the Caribbean and then later to Savannah, Georgia. I began my yoga training in the Caribbean and studied with teachers there, in Canada and in the US. A teacher at heart, I returned to my calling and began teaching yoga in 2009 after completing my first teacher training with the Aura Wellness Center in Rhode Island. Always seeking to expand my knowledge and training, I completed a second 200 hour program with Deva Parnell at the Discovery Yoga Center in St. Augustine, Florida. Kripalu inspired, my teaching style is grounded in honoring the body and its innate wisdom. I bring dedication, compassion and a sense of lightheartedness to all my classes, but what drives and inspires me most is a profound belief in the transformative power of the practice both on and off the mat.