One of the things I love most about attending yoga classes is experiencing the unique energy and style of the teachers. I'm amazed at how different each class can be even though the level may stay the same, similar postures may be offered, and classes may take place in the same studio.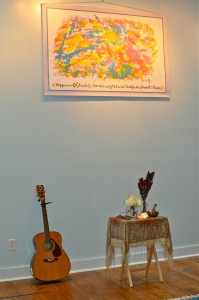 In my personal practice, I've been surprised at how much my preference for studio classes has changed over the years. When I first started I was ecstatic for yoga, filled with vim and vigor and ready for the most intense classes I could find. I enjoyed teachers who exuded moxie and found their energy to be infectious.
Being pregnant has slowed me down some and I've found my mindset to be more contemplative. I now enjoy classes with instructors who leave lots of quiet time in class where I can listen to my breath and find stillness, often welcoming reminders to stay focused internally.
A small bit of advice that I regularly offer to new students is to keep an open mind about each new teacher you encounter and recognize that your yoga preferences may change over time. Trying out lots of classes is a great way to find one or maybe a few teachers who you feel a connection with; still, be open dropping in on a new instructor or trying out a substitute when the opportunity arises as you never know where your life and your yoga will take you.