Tara Stiles
(Yoga Instructor)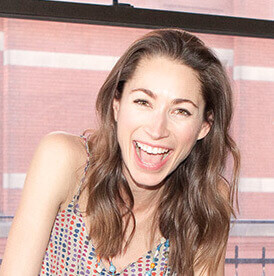 Yoga Instructor
Tara Stiles is the founder and owner of Strala, the movement system that ignites freedom. Thousands of guides are leading Strala classes around the globe in partner studios, gyms, and clubs.
Tara partners with Sports Club/LA and CMG, making Strala classes the first branded yoga program to be available at a major gym chains.Tara partners with W Hotels on FIT with Tara Stiles — a global program bringing Strala Yoga classes and healthy recipes to W properties around the globe.
She is a collaborator with Reebok, working closely with the design team on their Reebok Yoga lifestyle range, and has authored several top-selling books including Slim Calm Sexy Yoga, Yoga Cures, and the most recent, Make Your Own Rules Diet, all translated and published in several languages.
She has been profiled by The New York Times, Times of India, The Times (UK), and featured in most major national and international magazines. Tara is a sought after speaker primarily on topics of business building and health & wellness. She has lectured to sold out audiences and internal conferences around the world including Fortune's Most Powerful Women's Conference, Epsilon, Happinez, and Hay House events.
Tara supports The Alliance for a Healthier Generation, President Clinton's initiative to combat childhood obesity, bringing Strala classes to 20,000+ participating schools. Strala's flagship studio is downtown New York City.