The practice of yoga is for everyone, including those in their golden years of life, seniors! Breathing deeply, moving, and stretching the body are important at every age and become especially important as we get older.  The more we move our bodies, the more we can maintain mobility for years to come.
Regular participation in yoga asana can offer many benefits including, stress reduction, bone strengthening, improvements in balance, flexibility, and even mobility. Regular yoga and meditation practices can also help with anxiety, depression, sleep, and overall mood.
We sat down with Kari Ross-Berry, who regularly teaches yoga for seniors and chair yoga, to discuss the benefits, what you can expect from a senior yoga class, and more.
Here's what Kari had to say!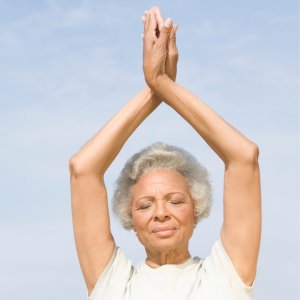 What are some of the benefits of yoga for seniors?
The benefits of yoga for seniors are many and can include increased resilience in the body and mind. This entails better mood, circulation, flexibility, and generally better balance.
What can someone expect in a chair yoga class? What about a senior yoga class?  
In a chair yoga or senior yoga class, we will breathe, stretch, work on our range of motion and mobility in the body, and strengthen. Chair yoga for seniors and others is ideal if one cannot get on and off the floor to practice in a gentle yoga class. Or if one has balance issues that make it unsafe to perform standing poses without support. I often say that if someone can comfortably get on and off the floor, gentle yoga is a great entry point for them. Specifically, in a chair yoga class, one can expect movement and breath linked to movement to improve posture, including forward head carriage, expansion of circulation, and increased proprioception (perception or awareness of the position and movement of the body) in the arms, legs, hands, and feet. One can expect gentle movement in a non-chair senior yoga class, primarily reclined or seated on the yoga mat.
What class style would you recommend if there isn't a specific senior class on the schedule?
If there isn't a specific class for seniors on your yoga studio's schedule, I'd recommend starting with a gentle yoga class. If you're brand new to yoga, it's a great idea to introduce yourself to the teacher and let them know.
How can a senior prepare for their yoga practice?
First, check with your medical provider to see if it's safe for you to practice yoga with any existing physical conditions. Then reach out to the studio or organization you plan to take classes at and speak with someone to see which classes would be most appropriate for you and your goals.
Find some comfortable clothes that you can move in, and prepare to allow yourself to progress slowly in your yoga practice. Yoga is a lifestyle practice that takes many years to progress through. Keep in mind; there is not one goal to achieve! Enjoy your practice as it is ever-changing. Come prepared with the attitude of one who is starting on a journey of self-discovery.
What has surprised you about teaching older adults?
Joy, camaraderie, shared wisdom, and a lifelong relationship with one's mind and body is rich for both the practitioner and the teacher. I have been amazed at the change in my older students' minds and bodies and how willing they are to share this with one another and encourage one another. I have also been humbled and honored by the life journeys far beyond my own. After each class, students tell me wholeheartedly how much better they feel after practicing yoga.
Ready to start your practice? Check out our gentle yoga class schedule or try out Pilgrimage Yoga On Demand where you'll find many pre-recorded chair and gentle yoga classes!
Written by Kara Willingham and Kari Ross-Berry for Pilgrimage Yoga